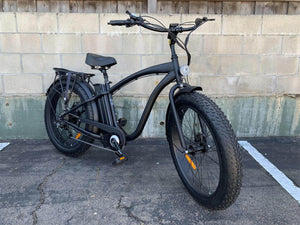 Embrace the Future of Sustainable, Effortless, and Fun Transportation!
Why EBYKE® Electric Bikes?
Our goal at EBYKE® has been to find better ways to get around town and also to the beach and on the waves. Having an electric bike allowed us to drive miles from home or work to the beach with a surfboard rack and not be winded when we got there. Electric Bikes are the logical choice because Laguna Beach and Orange County have so many hills and miles of beach options. and thus EBYKE® Electric Bikes was born!  

And of course we always want to save on gas, to save the planet, and still have the ability to explore different surf locations from San Clemente all the way to Huntington Beach.

So, put some power behind your pedals!. Electric bicycles, or e-bikes, feature a battery and a motor to help you pedal faster or with less effort. Whether you're cruising to the beach or commuting to work or on rocky terrain down a mountain, EBYKE Bikes has a wide variety of electric beach cruisers, folding bikes and mot bikes to suit your riding style with quality components and affordable prices.
Our electric bikes feature the best components like Shimano gear systems, hydraulic disk brakes, and stainless steel hardware wherever possible. All of our components are backed up by a one year warranty so if you're searching for electric beach cruiser bikes, moto bikes, folding bikes or city bikes, you can count on EBYKE Electric Bikes to provide excellent service and support.
All electric bicycles that we carry at EBYKE are vetted and tested by our experienced staff to endure they are providing the best value for your money. There are certainly cheaper bikes out there, as are there much more expensive bikes! We stick in the sweet spot of offering bikes in the $1000-2000 range. We make sure that you are getting the best quality bike at the lowest price! 
All of our E-Bikes have enough power to cruise up hills without pedaling, but are not as costly as some national brands. We typically stick to CA Class 2 bikes  but also offer Class 1 and 3. 
Take a look around and shop our Electric Bikes with Free Shipping, In-Stock Availability and to your door in 3-7 business days!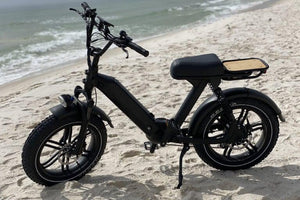 just dropped!
EBYKE Moped Style Bike
Looking for a fun weekend adventure? You can experience life in a new way with an electric bike form EBYKE! Switch between three riding modes to fit your needs at any time - throttle-only, pedal-assist or pedal-only

⚡️ Up to 45 miles of range per charge
⚡️ All Terrain fat tires for riding on and comfort
⚡️ Up to 28 mph
Shop Now
Warranty & FAQ's
EBYKE is a company of riders, cyclists, surfers and overall adventure enthusiasts. We believe in the quality of the bikes and components we produce. We design and ride our products to give our riders the best experience possible. Therefore, we back up our bikes with the best service and support possible.
Save the joints. eBikes can make bike riding fun again by making putting less pressure on knees, hips, and other joints.

Enjoy the ride together. You may have a riding partner that rides at a different speed than you. An eBike can even out the pace for both of you.

Leave the car at home. The convenience, the ease and the speed of an electric bike make it an alternative to an automobile more often than a regular bike. A study by Portland State University shows that eBike owners ride more frequently and farther than when they relied on their traditional bike.

Have more fun! Riding a bicycle is already fun and when you add electric assist it becomes even more fun. Notice how many people come back from an eBike test ride with a huge smile on their face!

-       Commuting to work
-       Taking the kids to school with kids seats or trailer
-       Running everyday errands; groceries, post office, shopping, etc.
-       Exploring new parts of the city, countryside, forest, or beach
-       Bicycle touring
-       Mountain biking
-       Business deliveries: restaurants, postal services (FedEx, UPS, DHL, and others use them)
-       eBike share programs and rentals.

Most electric bikes in the U.S. will provide you with assist up to 20 mph, putting them in California Class 2 category. California class 3 bikes will provide power up to 28 mph, but only while your pedaling.
They certainly can, but the intent of an electric bicycle is to be very similar to a conventional bicycle and that includes the speed that it can travel. If eBikes provided higher power assisted speeds then they would be regulated like a scooter/motorcycle which requires registration, licensure, insurance, etc. In addition, this would limit where eBikes can be ridden.
Bicycles and electric bicycles are great vehicles because they do not require registration, licensure, insurance, and there are so many places they can be ridden.

Most electric bikes have a range of 20-40 miles and that depends on the riding conditions (hills, headwinds, etc.), how much pedal power you are providing, and how much weight you are moving (yourself + cargo). You can get eBikes with more range (up to 100 miles) but they are generally more expensive and weigh more because of the larger battery pack. Quick tip: charging your battery at work will help to increase your daily range.